Bloomberg Center For Cities Welcomes Summer 2022 Fellows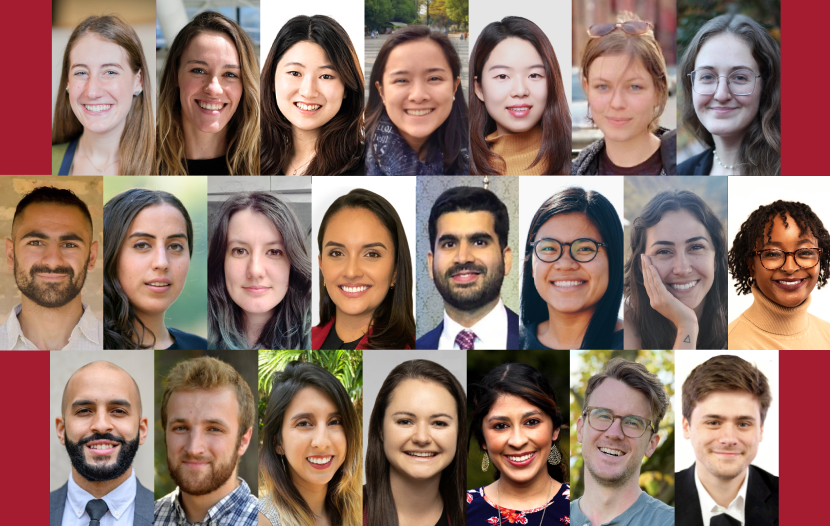 Twenty-two Harvard graduate students take their talents to U.S. and international cities
June 10, 2022, Cambridge, Massachusetts: The Bloomberg Harvard City Leadership Initiative, the flagship program of the Bloomberg Center for Cities, is pleased to announce the 2022 Bloomberg Harvard Summer Fellows. This group of 22 outstanding Harvard Master's and professional degree students was selected from a highly capable pool of more than 150 applicants from across nine Harvard Schools.
Students will work in local government in the following cities, all recent participants in the Initiative's programming for mayors and senior city leaders:
Amarillo, Texas
Bogotá, Colombia
Chattanooga, Tennessee
Hampton, Virginia
Islip, New York
Kitchener, Canada
Pomona, California
Riga, Latvia
San Juan, Puerto Rico (two Fellows)
Scranton, Pennsylvania
Tshwane, South Africa

Baltimore, Maryland
Brownsville, Texas
Green Bay, Wisconsin
Honolulu, Hawaii
Kansas City, Missouri
Moncton, Canada
Portsmouth, Virginia
Salt Lake City, Utah
Savannah, Georgia
Scottsdale, Arizona
They will contribute meaningfully to innovating government services, applying the tools of data-driven decision-making, human-centered design, and cross-sector collaboration to help cities tackle complex challenges such as gun violence, youth mental health, equitable economic development, and homelessness, improving the lives of city residents.
Since 2018, the Initiative has placed 86 Harvard graduate students in paid summer roles in 59 U.S. cities and nine international cities (some with multiple placements). Fellows work closely with city leader supervisors, addressing complex problems such as affordable housing, community safety, early childhood development, equitable economic recovery, and racial equity and access. Fellows deliver work such as analyses, plan designs, and new resources to assist mayors and city staff in advancing key priorities.
This year's class of Summer Fellows includes 12 graduate students from Harvard Kennedy School (HKS), four from the Harvard Graduate School of Design, two from the Harvard Graduate School of Education, one from the Harvard Divinity School, and one earning a joint degree at HKS and Yale Law School.
"Summer Fellows are catalysts and emerging leaders," said Pascha McTyson, the Initiative's Program Manager for Student Engagement. "The Fellowship is beneficial to everyone—the students who apply their skills and capabilities and gain valuable exposure, and the cities that gain extra capacity and new knowledge and tools to innovate and serve their residents."