Bloomberg Center for Cities welcomes 25 newly elected mayors to Harvard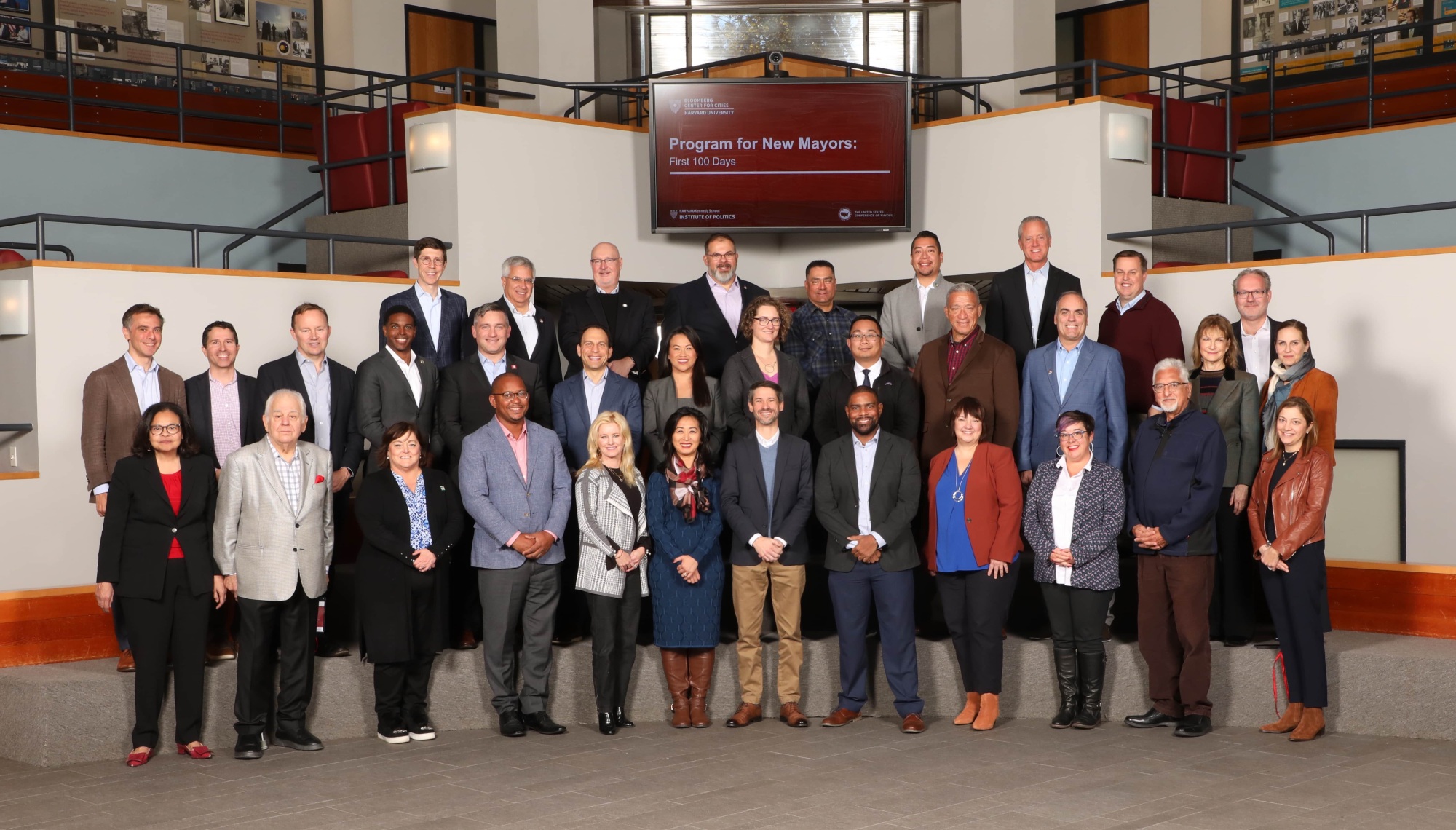 Twenty-five newly elected US mayors convene at Harvard to start strong in office
December 1, 2022, Cambridge, Massachusetts: Twenty-five mayors have been selected to participate in the Program for New Mayors: the First 100 Days, offered by the Bloomberg Center for Cities at Harvard University together with Harvard Kennedy School's Institute of Politics and the US Conference of Mayors. This new program builds on a longstanding seminar for new mayors that originated at the IOP in 1975.
The mayors will attend in-person and virtual classes taught by Harvard University faculty. Professors from Harvard Kennedy School, Harvard Business School, and Harvard Medical School/Harvard T.H. Chan School of Public Health will lead in-depth classroom discussions. Coursework is designed to help new city leaders make the most of their new roles, gaining strategic insights for leading cities and building out their city hall team and organization in the first days and months of their administrations.
Based on teaching cases developed at Harvard, sessions will focus on research-backed management and leadership practices. Faculty will present case studies designed to simulate a range of challenges and scenarios that mayors will face as they assume office and build successful teams. During these sessions, participants will be introduced to tools and frameworks to help them navigate their new roles.
The program provides an opportunity to share promising approaches and learn from fellow mayors about ideas that are already helping to enhance the quality of life in cities around the world.
The majority of the participating mayors and mayors-elect are from the West coast (California and Oregon). The average size of participating cities is 227,000 residents, and together the 25 attendees represent more than 5.3 million people.
Mayors and mayors-elect attending the Program for New Mayors are:
Ashleigh Aitken (Anaheim, CA); Melanie Kebler (Bend, OR); Ty Penserga (Boynton Beach, FL); Hollies Winston (Brooklyn Park, MN); Steve Babick (Carrollton, TX); Jim Penniman-Morin (Cedar Park, TX); John McCann (Chula Vista, CA); Barbara Buffaloe (Columbia, MO); Catherine Moy (Fairfield, CA); Becky Daggett (Flagstaff, AZ); Harvey Ward, Jr. (Gainesville, FL); Mark Salinas (Hayward, CA); Rex Richardson (Long Beach, CA); Craig Greenberg (Louisville, KY); Richard Bissen (Maui, HI); Ulises Cabrera (Moreno Valley, CA); Phillip Jones (Newport News, VA); Sheng Thao (Oakland, CA); Brett Smiley (Providence, RI); Eduardo Martinez (Richmond, CA); Chris Hoy (Salem, OR); Helen Tran (San Bernardino, CA); Matt Mahan (San Jose, CA); Juan Gonzalez (San Leandro, CA); and John Carli (Vacaville, CA).
The Program for New Mayors specializes in leadership, management, and building the capacity to solve problems. It does not offer specific policy recommendations, and it is non-partisan. The program will offer insights to mayors after the in-person sessions and into the first months of 2023.